And the president of the marketing committee for the Asian Football Confederation has revealed that Mohamed Salah is one of the top names that they are keeping an eye on.
There are only two years left on the contract that the Egyptian King now holds at Anfield, despite the fact that he is one of the most marketable names in football.
According to the Koura Press Network, which was reported on by AS, Hafez Al-Medlej said, "We also need to start working on the signing of Mohamed Salah because he is so enormously popular in both the Arab world and in Europe."
"Salah still has records to break with Liverpool, so I hope that even if he doesn't come now, he will in the future." "I think Salah still has records to break with Liverpool."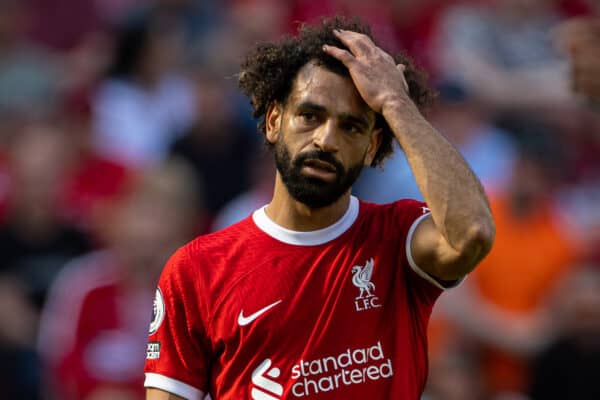 Other Stories…
Treble winning captain Ikay Gundogan is set to leave Man City after agreeing terms with Barcelona.
The Spanish powerhouses have presented Gundogan with a contract that is for two years and includes an option for a third year.
Declan Rice may have to go on strike at West Ham to get his Arsenal move across the line this summer.
Danny Murphy, a former midfielder for Liverpool and Tottenham, has stated that this is the case.
He believes that the Hammers star might be compelled to put his foot down if his transfer issue drags on for much longer, especially considering that his club has already turned down two bids from the Gunners.
"As of now, Man City aren't in – my understanding is that they have not committed yet and I've heard nothing about Bayern Munich," Murphy said to White and Jordan on talkSPORT. "So Arsenal don't have to rush," he said.
"And it may get to a point where Declan has to make a decision – has he got the courage to kick up in order to get away if he needs to?
"I know he's not that type of lad, but sometimes you have to be Craig Bellamy or Joey Barton – you've got to look after yourself," I told his teammates.
"During the course of my career, I only ever had it once, but you have to be able to follow through.
"It means that you have to make it quite plain that, 'If you keep me here, I won't be playing,' and even if you don't truly believe it over the course of the long term, you still have to do it and make them believe it.
"Is it the kind of thing that a professional would do? It makes no difference. You are responsible for taking care of yourself.
"The most important decision that Dec will have to make, in the event that Man City do come in late, is whether or not to depart from London.
"London is his home; it's where he was born and raised; it's where his family is; yet, in terms of football, it would be a no-brainer for him to join the Premier League champions.
"Even though Arsenal are heading in the right direction, if you had to choose between City and Arsenal, you would go with City every time," someone said.
See Also |ACCORDING TO SPANISH MEDIA, ILKAY GUNDOGAN PASSED BARCELONA MEDICAL AHEAD OF JOINING FROM MAN CITY