Check Out "Crystal Palace are fighting to maintain Michael Olise, while talkSPORT knows Eberechi Eze's future is uncertain." Roy Hodgson has confirmed that Chelsea is interested in signing Olise, but the future of Eze is also uncertain.
Palace want to extend their contract with the one-cap England international until 2025.
talkSPORT understands Eze has a new deal but is not interested in signing it.
He may be another athlete who attracts suitors who take advantage of the situation.
However, Danny Murphy feels it's unavoidable for mid-table Premier League clubs like Crystal Palace to lose their top players, and Crystal Palace should learn from Brighton's example.
Murphy told talkSPORT, "Olise is a super talent but if your recruitment's good there's a lot of super talented wingers out there you just got to keep finding diamonds in the rough if you're Crystal Palace.
Eze is their best player, a future superstar.
They've lost a few players, and while you want quality coming in, you need numbers, strength, depth, and competition for places, so Olise's departure provides them more money to do that.
They must be smart since all these clubs in the middle of the Premier League will lose their top players, so it's how effectively you recruit to replace them.
Brighton is a good example—they sell one for a ridiculous amount of money, then the next one comes in because they're planning. Palace should do that.
"Because you watched Palace last year and how Olise and Eze performed, you can't tell me a bid for either of those boys is a surprise."
Other Story…
Marcelo tweeted [or is it Xed?] a sincere apologies after breaking an opponent's leg.
The Fluminense player was sent off and cried following the strange accident.
After Marcelo hit his shin, Argentinos Juniors defender Luciano Sanchez's left knee dislocated and his leg buckled and bent.
"Today I had a very difficult moment on the pitch," Marcelo tweeted.
I accidentally hurt another gamer. He deserves the greatest recovery. Whole-world strength."
Fluminense FC expressed sympathy and wished Argentinos Juniors defender Luciano Sanchez a swift recovery after being wounded in an inadvertent action in tonight's encounter. Argentinos Juniors commented, "We are rivals, not enemies".
Watch the incident clip, but not while enjoying your morning Coco Pops…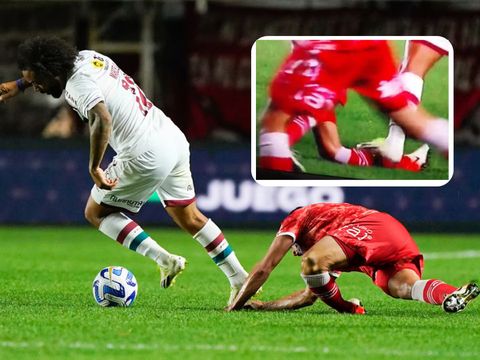 See Also | WEST HAM WAS ADVISED TO 'PUSH THE BOAT OUT' AND PAY FOR JAMES WARD-PROWSE