According to The Athletic, Earps also wants to leave Old Trafford.
The 'Queen of Saves', England's goalkeeper, returned to United's training field following the Women's World Cup as a 'isolated figure', with club officials fearing she 'does not want to be there'.
Known for her candor, Earps criticized Nike, which prompted to the company's decision to make replica England goalie kits for supporters.
However, Earps appears to be staying quiet about her future amid rumors of a move to Arsenal with Russo.
Gunners made a bid 'significantly higher' than the current record for a women's goalkeeper, £100,000, for Earps last week, but United refused to sell the 30-year-old.
Earps' contract, which has one year left, is still being negotiated with United.
It's possible to sign another Lionesses player to north London before the women's transfer market ends on September 14.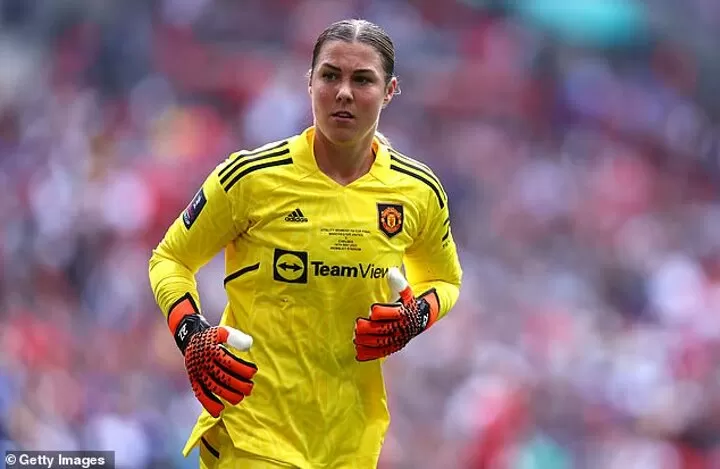 Other Stories…
Demarai Gray wrote to Everton fans after joining Al-Ettifaq.
Gray left Goodison Park when his relationship with manager Sean Dyche soured, writing on Instagram that it was "difficult to play for someone who doesn't show you respect as a person".
Dyche responded by saying Gray had gone on strike and did not want to train because he believed he had agreed to leave.
Gray stated: "After two years with Everton, it's time to say goodbye. I wish the club the best and am pleased to have played for this amazing team.
Fans were always amazing—thank you for your support. You made wearing the garment special.
Speculation regarding my situation has persisted all summer. I gave my everything to this club on and off the pitch, good and bad.
I wanted to play as much football as possible this season, but it seemed unlikely. Time for my next chapter. I am match-fit and eager to play."
Jamie Carragher told talkSPORT he thinks Mohamed Salah will leave Liverpool this season.
Al Ittihad, a Saudi club, has made a £150million offer for the Egyptian star, which Liverpool has refused.
According to reports, the Pro League team is willing to spend over £200m for a deal.
With the British transfer window closed, Liverpool is unlikely to approve the trade, but Carragher believes Salah should be moved on next summer following seven great seasons at Anfield.
The Liverpool star told Hawksbee and Jacobs: "His contract will expire in less than two years and he'll be free.
I think most Liverpool fans think we've got him for one more season rather than let him go at the start of a new season with no prospect of bringing someone in.
"For all parties, it almost feels like Liverpool would still get a substantial transfer fee next summer.
"Great players come, great players go, and you have to move on."
See Also | ACCORDING TO SOURCES, GRAHAM POTTER TURNED DOWN LYON'S MANAGEMENT OFFER